Researchers revealed PIF complex formation and intracellular transport
Date:14-01-2019 | 【Print】 【close】
Baculoviruses are rod-shaped, large dsDNA viruses that infect insects from the families Lepidoptera, Hymenoptera, and Diptera. Entry of baculovirus in host insects is mediated by a per os infectivity factor (PIF) complex on the envelope of occlusion-derived virus.
The mechanism of PIF complex assembly is still largely unknown. Knowledge of the composition and structure of the PIF complex is fundamental to understanding its mode of action.
In a present study, the research group led by Prof. HU Zhihong from Wuhan Institute of Virology of the Chinese Academy of Sciences provided a complete list of proteins (nine) in the PIF complex.
In this study, the researchers systematically investigated the composition, assembly and function of the baculovirus PIF complex to understand its role in virus entry. Multiple approaches including blue native (BN) PAGE, liquid chromatography-tandem mass spectrometry, and Western blot analysis were used to obtain a complete list of components of the PIF complex.
Different from previous knowledge in the field, they found that the core-complex was revised to ~230 kDa in size and consisting of PIF1-3 but not PIF4. Their results provided a likely complete list of PIF complex components, revised previous understanding of the core-complex, and shed light on the process of complex assembly and intracellular transport.
The results have been published in Journal of Virology entitled "Baculovirus per os Infectivity Factor Complex: Components and Assembly". "This will be a landmark paper in the baculovirus field," the peer reviewer said.
This work was supported by the Key Research Program of Frontier Sciences of the Chinese Academy of Sciences, the Strategic Priority Research Program of the Chinese Academy of Sciences, the National Natural Science Foundation of China and the Virology Key Frontier Science Program of the State Key Laboratory of Virology.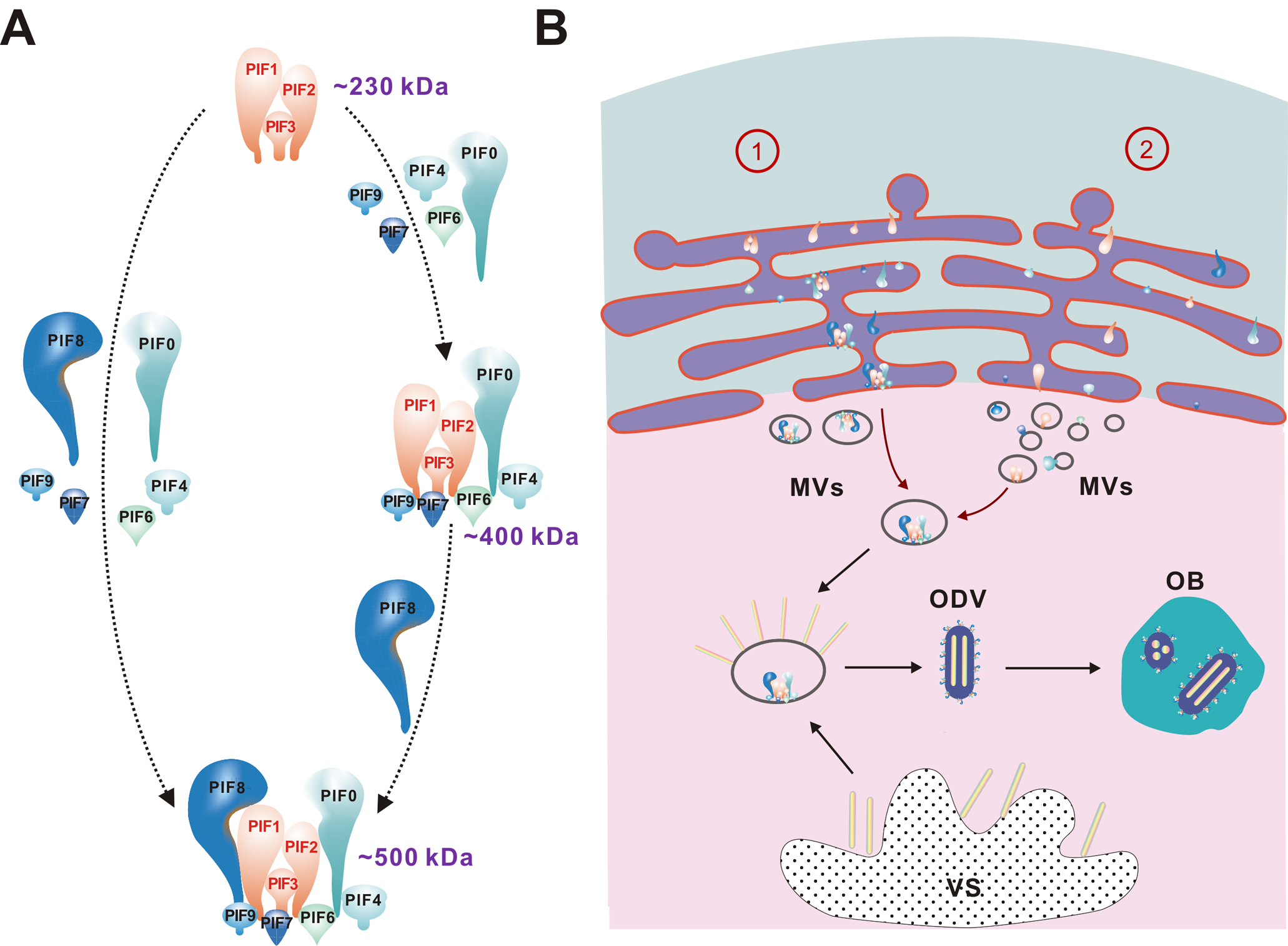 A proposed model of PIF complex formation and intracellular transport. (Image by HU Zhihong)
Contact
HU Zhihong
E-mail: huzh@wh.iov.cn
Wuhan Institute of Virology, Chinese Academy of Sciences, Wuhan 430071, China. (http://english.whiov.cas.cn/)