Scientists design a training program for BSL-4 laboratory users
Date:22-04-2019 | 【Print】 【close】
Over the last 2 decades, numerous infectious diseases, including Ebola, Marburg hemorrhagic fever, Crimean-Congo hemorrhagic fever have emerged and re-emerged. These infectious diseases pose serious threats to public health and global economies.
Biosafety Level 4 (BSL-4) laboratories investigate the most dangerous pathogens and have the maximum biocontainment levels. China constructed its first BSL-4 laboratory, the Wuhan National Biosafety Laboratory (Level 4) of the Chinese Academy of Sciences, in 2015. The safety and function of a BSL-4 laboratory rely not only on the containment facility and biosafety management systems but also on highly qualified and experienced staff.
In a recent study, the team led by Prof. YUAN Zhiming in Wuhan Institute of Virology of the Chinese Academy of Sciences designed a training program for BSL-4 laboratory users that follows local, national, and international guidelines and regulations. Their program ensures the safety and security of staff involved in research at the Wuhan BSL-4 laboratory.
The scientists included 3 categories of trainees according to their duties: laboratory managers or biosafety professionals, operations or maintenance staff members, and researchers or technicians who work with infectious agents in vitro or in vivo. Their BSL-4 users training occurs in 3 phases: a pre-assessment, theoretical and practicum training, and a final assessment. Training comprises small group lectures, hands-on practice in the training laboratory, and mentored work in the functioning BSL-4 laboratory.
Depending on their role in the laboratory, trainees complete required and elective modules and a specified number of mentored hours and entries into the laboratory to receive certification. In addition, they provide supplemental training after any procedural or policy changes and annual refresher training for experienced workers.
This rigorous training program will reduce the risk of harm or exposure to laboratory staff working with highly pathogenic agents, which is the starting point for developing national norms for high-containment laboratory training and preparing qualified, maximum biocontainment laboratory scientists and facility operations specialists.
The paper has been published in Emerging Infectious Disease entitled "Biosafety Level 4 Laboratory User Training Program, China".
This work was supported by the National Key Research and Development Program of China and the Wuhan Science and Technology Project from Wuhan Science and Technology Bureau, China.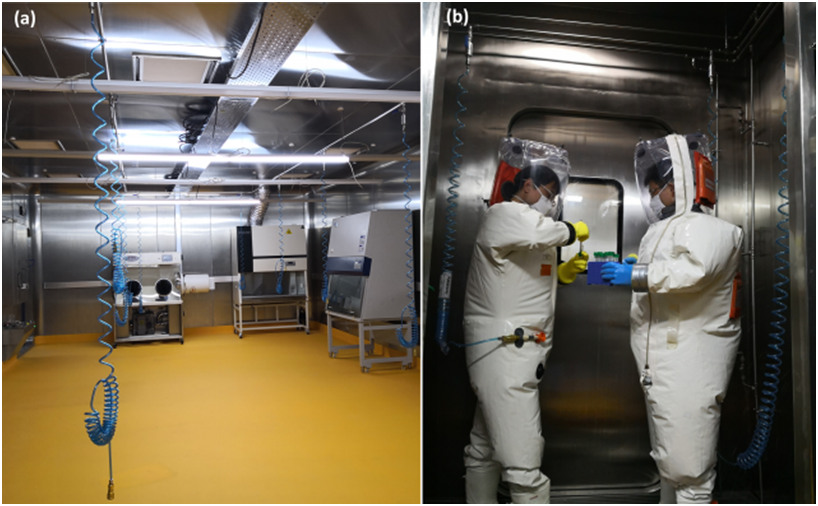 Photographs of the Biosafety Level 4 (BSL-4) training laboratory for China's Wuhan National Biosafety Laboratory (Level 4) of the Chinese Academy of Sciences. Image by XIA Han
Contact:
YUAN Zhiming
E-mail: yzm@wh.iov.cn
Wuhan Institute of Virology, Chinese Academy of Sciences, Wuhan 430071, China. (http://english.whiov.cas.cn/)