Two immunogen candidates have potential utility for neutralizing antibody selection and vaccine design against ZIKV
Date:10-07-2019 | 【Print】 【close】
Zika virus (ZIKV), as a re-emerging viral pathogen, belongs to the Flaviviridae family including dengue virus (DENV), West Nile virus (WNV), Japanese encephalitis virus (JEV), yellow fever virus (YFV), and tick borne encephalitic virus (TBEV). It can be transmitted by Aedes mosquitoe and cause severe neurological diseases including Guillain-Barre Syndrome (GBS) in the adult, and congenital Zika syndrome (CZS) in the infant that includes microcephaly, brain abnormalities, and other severe birth defects.
Due to the huge threat of ZIKV to the public health, it has raised worldwide attention and lots of work on the development of drugs and vaccines against ZIKV is in progress. However, there is no approved anti-ZIKV reagents for clinical use, which needs continuous efforts.
In a recent study by the research teams led by Prof. GONG Rui and Prof. ZHANG Bo in Wuhan Institute of Virology of the Chinese Academy of Sciences, a panel of positive antibodies were used to comprehensively characterize the recombinant protein ZEA264C and ZE-Fc.
According to their results, the dimeric E could be efficiently formed under covalent or noncovalent condition and both of them could be recognized well by most of tested mAbs targeting tertiary or quaternary structure epitopes, which showed that major neutralizing epitopes including tertiary/quaternary structure epitopes are maintained in both ZEA264C and ZE-Fc. The binding activities of each tested antibody to them are comparable in general.
To further illustrate the advantages of dimeric E (ZEA264C and ZE-Fc) in vivo, immunization assay was performed in mice and sera were obtained from different groups to assess the production of antigen-specific antibody and neutralizing potency of these antisera.
Firstly, the scientists found ZEA264C and ZE-Fc could cause higher humoral immunity responses than monZE in vivo. Secondly, the antisera from ZEA264C and ZE-Fc-immunized mice show higher neutralizing activities than that of monZE in vitro. Although they do not isolate neutralizing monoclonal antibodies from immunized mice, they could rationally speculate that stronger neutralizing potency probably derive from elicitation of tertiary/quaternary-specific antibodies, more EDIII-specific antibodies and less FLE-specific antibodies after immunization by ZEA264C and ZE-Fc compared to monZE.
Combination with all the results, it reasonably shows evidence that dimeric E might be better candidate as immunogen than monomeric E. In addition, fusion with Fc fragment could bring extra benefits. It is able to enlarge molecular size and prolong the half-life of wtZE, and bring other benefits in vivo after immunization, which could effectively enhance the immunogenicity and increase the reactivity of immune system.
In conclusion, both of candidate immunogens ZEA264C and ZE-Fc could be useful for development of therapeutic mAbs and design of vaccines against ZIKV infection. And both strategies for dimerization could be expanded to study on antiviral reagents against other flaviviruses.
The study was published in Journal of Biological Chemistry entitled "Characterization of two engineered dimeric Zika virus envelope proteins as immunogen for neutralizing antibody selection and vaccine design".
This work was supported by the Key Program of Chinese Academy of Sciences, the External Cooperation Program of Chinese Academy of Sciences, the National Key Research and Development Program of China, and the "One-Three-Five" Strategic Programs of Wuhan Institute of Virology, Chinese Academy of Sciences.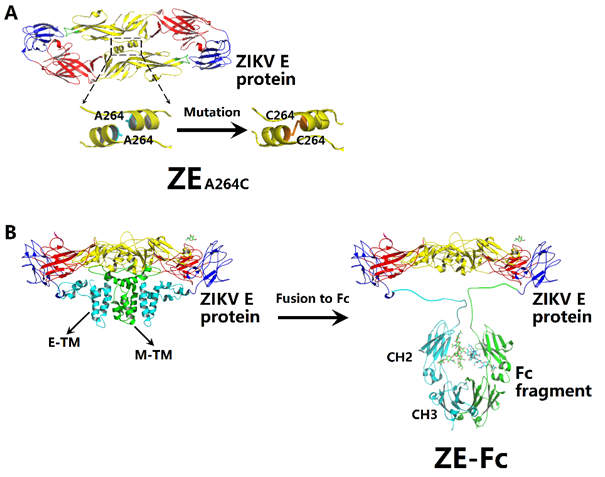 Design and construction of monZE, ZEA264C and Fc-fusion proteins for expression in Drosophila S2 cells. Image by GONG Rui
Contact:
GONG Rui
E-mail: gongr@wh.iov.cn
Wuhan Institute of Virology, Chinese Academy of Sciences, Wuhan 430071, China. (http://english.whiov.cas.cn/)